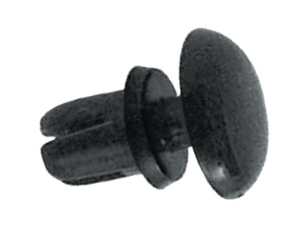 HEYClip™ Snap Rivets
Designed for fast and easy installation with no tools – just fingertip pressure required. Simply place rivet into the hole and press down on the head to fasten; legs expand to securely fasten components. To release, simply pull up on rivet head section.
Benefits
Round head provides a clean, finished look. • Part Description Key: PR X-Y where X = Mounting Hole Diameter (inches) and Y = minimum Panel Thickness (inches).
Standard Material: Nylon 6. Nylon 6/6 UL 94V-0 available by special order, consult Heyco.
Standard Pack – 1,000/bag.
Contact RPD at 317-883-6700 to place an order.
Don't see what you're looking for?
We offer custom colors and sizes, just reach out and we'll help you get what you need.
Contact Us