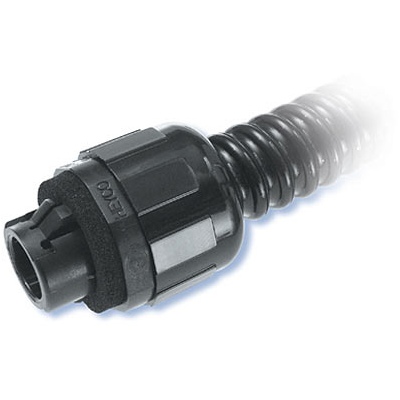 Heyco-Flex™ Liquid Tight Conduit Fittings (Straight-Thru, Snap In) for Heyco-Flex™ I conduit and Heyco-Flex™ II tubing
Benefits
Assembly friendly! The installer simply pushes the conduit or tubing onto the ferrule, then tightens the domed sealing nut. This completed assembly can then be snapped into the panel with fingertip pressure.
Convex ferrule ensures liquid tight seal.
No threading of the conduit or tubing required to install. This eliminates the possibility of cutting the conduit and creating leak paths.
Complete conduit/fitting system is reusable. Conduit will not wind tight onto the connector during assembly and can be easily removed by pulling while turning in a clockwise direction.
Multiple sizes for use with Heyco-Flex Conduit and Tubing.
Suitable for indoor/outdoor use; for original equipment manufacturers or field installers.
Resist salt water, weak acids, gasoline, alcohol, oil, grease, and common solvents. (This feature is not assessed by UL certification or testing.)
Foam sealing washer included.
Contact RPD at 317-883-6700 to place an order.
Don't see what you're looking for?
We offer custom colors and sizes, just reach out and we'll help you get what you need.
Contact Us