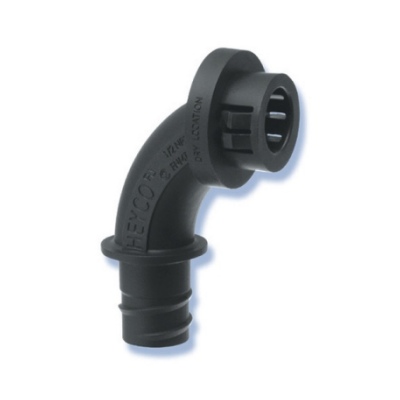 Heyco-Flex™ Quick Twist Conduit Fittings (90° Sweep) for use with Heyco-Flex™ I and II conduit and tubing
Benefits
One-piece solution with smooth internal surfaces provides for easier wire routing, protection, and installation around corner angles.
Easy, permanent assembly: the installer twists the tubing over the connector ferrule. • Unique locking fingers accommodate various panel thicknesses.
All nylon construction is resistant to salt water, weak acids, gasoline, alcohol, oil, grease, and common solvents. (This feature is not assessed by UL certification and testing.)
Suitable for a wide array of electrical applications: - Commercial and Industrial HVAC Systems - Motorized Equipment - Enclosed Power Sources - Garage Door Openers - Major Appliances
Finishing collars available to neaten rough cut tubing ends.
Assembly Tool available for assembling Quick Twist Fittings into HF1 and HF2 Conduit and Tubing. Snap-In Hubs
Snap-in Fittings are UL recognized for use with Heyco-Flex II Tubing.
Suitable for dry location only. NPT Hubs
NPT threaded fittings are UL approved for use with Heyco-Flex I & II Conduit and Tubing.
If using a tapped hole, Teflon® tape is needed on the threads of the connector, for all other applications an O-ring and Locknut are needed to attain liquid tight.
Locknuts not included. To order nylon or metal locknuts separately.
Contact RPD at 317-883-6700 to place an order.
Don't see what you're looking for?
We offer custom colors and sizes, just reach out and we'll help you get what you need.
Contact Us