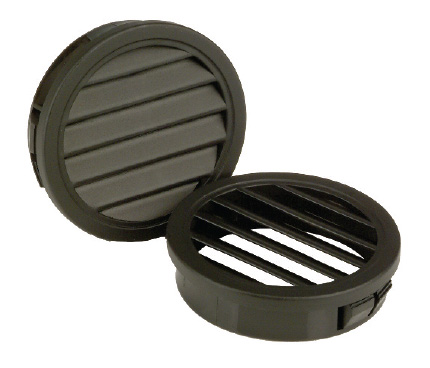 Heyco® Louvered Plugs
Mounting Hole Diameter Range: .875˝ (22,2 mm) to 3.000˝ (76,2 mm)
HEYClean™ Filter Insert Louvered Plugs
Mounting Hole Diameter Range: .875˝ (22,2 mm) to 3.000˝ (76,2 mm)
Benefits
Louvers permit the passage of air for ventilation but limit liquid infiltration.
Suitable for ventilation in electronic enclosures, motor housings and metal or plastic panels.
Quick and easy installation with flexible orientation of louver direction.
Withstand a push back force of 35 lbs. (47 Nm).
Lock firmly into panel up to .250˝ (6,4 mm) thick.
Locking fingers in fractional increments up to the maximum panel thickness.
Heyco Vent Plugs, Heyco Thick Panel Vent Plugs, and Heyco Liquid Tight Threaded Vent Plugs also available
Polyurethane foam filter will filter particle sizes 30 micron and larger.
Contact RPD at 317-883-6700 to place an order.
Don't see what you're looking for?
We offer custom colors and sizes, just reach out and we'll help you get what you need.
Contact Us