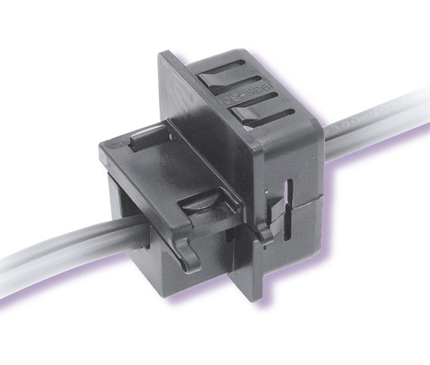 Heyco® Multi-Lockit™ Strain Relief Bushing
Heyco® Multi-Lockit™ Strain Relief Bushing For Round and Flat Cables
Benefits
LSR 1939-300:
Assembly friendly! Independent of insertion into the panel, LSR 1939-300 self-locks onto the cable. Preassemble off line for final assembly at a later time or remote location, for lower installed cost! Large mounting hole design allows passage of plugs or bulky assemblies during installation. Passes UL pull-out test requirements with or without panel support. Protects the lifeline of your electric/ electronic products by absorbing the forces of push and pull that may be exerted on the flexible power cord. Rectangular design eliminates the possibility of part rotation under forces of twist.
ST 101A:
Designed to be installed in a U shape panel slot (see schematic). Securely anchors, insulates, and protects cables at panel entry point. Slim head profile makes ST 101A design-specific. Heyco's automated Pre-Assembly Equipment speeds assembly of the Lockit onto the cable and thus lowers costs while greatly reducing risk of carpal tunnel syndrome. Consult RPD for other wire types and sizes.
Contact RPD at 317-883-6700 to place an order.
Don't see what you're looking for?
We offer custom colors and sizes, just reach out and we'll help you get what you need.
Contact Us