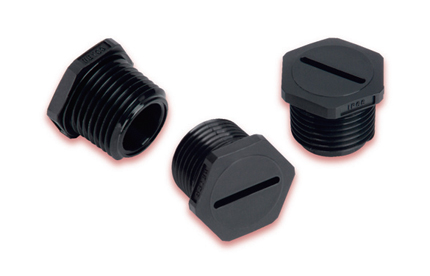 Heyco® Nylon Liquid Tight Threaded Plugs
Liquid Tight, with Integral Sealing Ring
Hex Head with Slot
Benefits
Integral sealing ring ensures a superior seal at mounting hole location, every time.
IP 68 Rated.
Provide a liquid-tight seal up to 70 psi.
UL Rated for Type NEMA 3R, 4 and 4X applications.
Threaded plugs for hydraulic and pneumatic applications.
Seal threaded openings and protect against contamination and moisture.
Lower cost option over brass or steel plugs.
Non-corrosive–resist salt water, weak acids, gasoline, alcohol, oil, grease, and common solvents.
Resist oil and heat up to 221°F (105°C).
Approximate Head Thickness: .21˝ (5,3 mm). Thickness may vary.
Hex shaped head with slot for wrench or screwdriver installation.
Electrically non-conductive Nylon 6/6.
Contact RPD at 317-883-6700 to place an order.
Don't see what you're looking for?
We offer custom colors and sizes, just reach out and we'll help you get what you need.
Contact Us