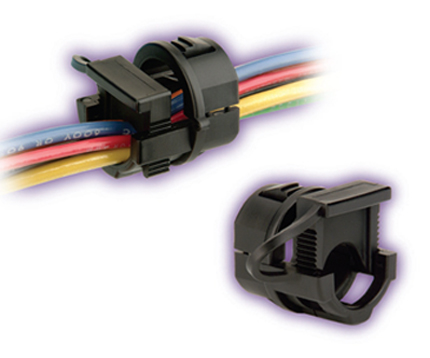 Heyco® Nylon Removable Snap-In Ratcheting Strain Reliefs
For Round and Double D Mounting Holes
Benefits
Assembly friendly! Independent of insertion into the panel, the Ratcheting Strain Relief self-locks onto the cable. Thus, it may be preassembled offline for final assembly at a later time or remote location, for lower installed cost!
Unique wire locking ratchet allows for generous wire range from .12˝ (2,9 mm) to .75˝ (19,1 mm).
Can be used for one cable or multiple cables (round or flat wire).
Installs easily with fingertip pressure into a standard round or Double D hole.
Ratcheting Strain Relief can be easily removed by inserting standard snap ring pliers with .04˝ tips (Heyco PN 0054) into the two holes on the part (see drawing) and spreading part open.
Ideal solution for managing internal wire bundles such as wire harnesses.
PN 1280 UL Recognized for multiple cables/conductors.
Consult RPD for other wire types and sizes.
Contact RPD at 317-883-6700 to place an order.
Don't see what you're looking for?
We offer custom colors and sizes, just reach out and we'll help you get what you need.
Contact Us