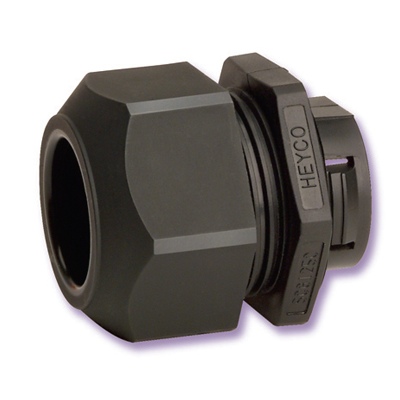 Heyco® Snap-In Cordgrip Strain Reliefs (Straight-Thru and Pigtail™)
The Ultimate in Snap-In Strain Relief Protection For Panels from .062˝ (1,6 mm) to .125˝ (3,2 mm) Thick
Benefits
Unique fingers securely lock into a range of panel sizes without use of locknut.
Pigtail: Integral nylon spring eases the cable into a lazy bend; prevents kinking and assures longest cable and product life.
Smooth, rounded interior edges for ease of installation.
Limited intrusion into enclosure where access is tight.
Rotation prevented when used in Double D mounting holes.
Easy to install–no tools required.
Ratchet design of sealing nut assembly provides superior antivibration and ensures a firm grip on the cable.
Available in multiple sizes for cable diameters ranging from .210˝ (5,3 mm) to 1.260˝ (32,0 mm).
We recommend using the fitting with the smallest maximum diameter that will fit your application.
Meet UL strain relief requirements without kinking the cable.
Though similar in appearance and function to Heyco-Tite Liquid Tight Cordgrips, Snap-in Cordgrip Strain Reliefs may not be liquid tight at the panel interface.
Use Heyco Mounting Hole Plugs for DD Mounting Holes, or Heyco Dome Plugs for round Mounting Holes, to fill blank/unused Mounting Holes and thus allow for a single panel design across multiple applications.
Contact RPD at 317-883-6700 to place an order.
Don't see what you're looking for?
We offer custom colors and sizes, just reach out and we'll help you get what you need.
Contact Us