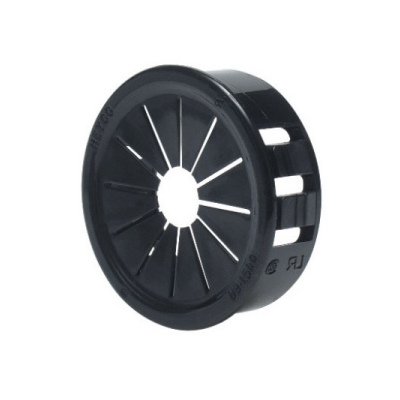 Heyco® Thick Panel Universal Bushings
Multiple Locking Steps for Panel Thickness up to .250˝ (6,4 mm); Mounting Hole Diameter Range: .500˝ (12,7 mm) to 1.500˝ (38,1 mm)
Benefits
For use in mounting panels up to .250˝ thick.
Flexible shutters to absorb vibration on the inside diameter.
Insulate and mechanically protect electrical and telecommunications cables, tubing, hose, rope, and utility lines.
Withstand a push back force of 35 pounds.
Locking fingers snap into holes with fingertip pressure.
Locking fingers in fractional increments up to the maximum panel thickness.
Available in multiple sizes for use in .500˝ (12,7 mm) to 1.500˝ (38,1 mm) diameter holes.
Contact RPD at 317-883-6700 to place an order.
Don't see what you're looking for?
We offer custom colors and sizes, just reach out and we'll help you get what you need.
Contact Us