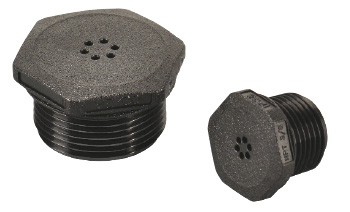 Heyco® Threaded Vent Plugs
Open vent holes only
Benefits
Permit the passage of air for ventilation and heat dissipation.
Quick and easy installation into Threaded Holes.
For multiple thread sizes and types.
All sizes and types feature seven (7) .094˝ (2,4 mm) diameter vent holes.
Threaded plugs for hydraulic and pneumatic applications.
Lower cost option over brass or steel plugs.
Non-corrosive-resist salt water, weak acids, gasoline, alcohol, oil, grease and common solvents. Resist oil and heat up to 221°F (105°C).
Approximate Head Thickness: .21˝ (5,3 mm). Thickness may vary.
Hex shaped head for wrench installation.
Electrically non-conductive Nylon 6/6.
Contact RPD at 317-883-6700 to place an order.
Don't see what you're looking for?
We offer custom colors and sizes, just reach out and we'll help you get what you need.
Contact Us